Special Film Depicts Range of Emotions at Easter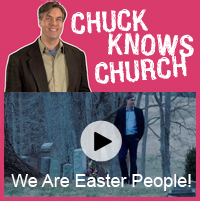 NASHVILLE, Tenn. April 7, 2014 /Discipleship Ministries --The range of emotions Christians experience concerning the death and resurrection of Jesus Christ are dramatically portrayed in a new short film celebrating Easter available from the Discipleship Ministries.
Produced by GodFilms, a Discipleship Ministries ministry, the film Resurrection! allows viewers to look at the death of Christ on the cross through a different lens.
"This film takes us through the emotions of Good Friday, the three days in the tomb and then resurrection of our Lord Jesus Christ," said Steve Horswill-Johnson, executive director of communications at Discipleship Ministries and senior producer/director of GodFilms. "In a few minutes, it expresses the emotions of the crucifixion in a different way – in a funeral setting."
Because images of Jesus' death usually get so much attention, Christians tend to dwell on the death of Jesus more than his resurrection, Horswill-Johnson said. But this Easter film looks at death differently.
The film is part of a comprehensive collection of resources to help individuals and congregations prepare for Lent and Easter that are available at www.Discipleship Ministries.org. The film also is available online to download for free at www.ChuckKnowsChurch.com.
The production is another of the short films from Chuck Knows Church, the popular and informative weekly web series from Discipleship Ministries about the objects, symbols and terms used in church.
Chuck Knows Church is used in worship services, Bible studies and confirmation classes throughout The United Methodist Church and in other denominations.