History of Hymns: 'Pues Si Vivimos'
"Pues Si Vivimos"
Mexican folk hymn, and Roberto Escamilla
The United Methodist Hymnal, No. 356; Mil Voces Para Celebrar, No. 337
Pues si vivimos, para El vivimos When we are living, it is in Christ Jesus,
y si morimos para El morimos. And when we're dying, it is in the Lord.
Sea que vivamos o que muramos, Both in our living and in our dying,
Somos del Señor, somos del Señor. We belong to God, we belong to God.*
*Translation Copyright © 1989 The United Methodist Publishing House. Used by permission.

This gentle and assuring Mexican folk hymn has quickly become a favorite song in both Spanish and English speaking churches in a variety of denominations. To date it has been published in over thirteen denominational hymnals or songbooks. While this hymn is lovely in its simplicity of melody and message, its origin is a bit more complicated.
It first made its appearance in the songbook, Celebremos II, 1983. This songbook was published by Discipleship Resources, an in-house publishing arm of The General Board of Discipleship, and developed as a result of MARCHA (Methodists Associated Representing Concerns of Hispanic Americans) recommendations that more Spanish indigenous music be collected for use in Spanish speaking churches. As a result, the first stanza was recorded and transcribed by Gertrude Suppe, serving on this editorial committee, after meeting a Mexican woman in Los Angeles following a worship service. It was then presented to the editorial committee for inclusion in Celebremos II. Elise Eslinger, music editor for Celebremos II, translated the first stanza from Spanish to English. Roberto Escamilla, editor of Celebremos II, added three additional verses in Spanish. These words were translated into English by George Lockwood, thereby creating the hymn as we know it today.
Roberto Escamilla, editor of both Celebremos I and Celebremos II, is a native of Hidalgo, Mexico, and has served many United Methodist churches in Texas and Oklahoma, both Spanish and English-speaking. He has a distinguished career as a pastor and a teacher that has spanned decades and continues to teach at Perkins School of Theology at the Course of Study School in the area of worship, the sacraments, and preaching.
The Canterbury Dictionary of Hymnology, in the essay, "Methodist Hymnody, USA" by Robin Knowles Wallace and Carlton Young, includes the following historical overview:
The publishing of Himnario Metodista by United Methodists (Nashville, 1973), ed. Alfredo Náñez coincided with an awakening of Latino consciousness and a concern that their hymnals should be a clear voice of Hispanic Methodists rather than translations of hymns brought by Anglo-Saxon missionaries. During the next twenty years, a project task force headed by Roberto Escamilla (1931- ) produced Celebremos: Primera Parte, Colección de Coritos (Nashville, 1979), a collection of familiar choruses) and Celebremos: Segunda Parte, Colección de Himnos, Salmos y Cánticos (Nashville, 1983) containing hymns, psalms, and canticles from a broad global and ecumenical Latino perspective. UMH included eighteen selections in Spanish, of which nine were translations by George F. Lockwood, IV (1946- ). Mil Voces Para Celebrar (Nashville 1996) ed. Raquel Mora Martínez, contained services, psalter with respuestas (antiphons or responses), 394 hymns, prayers and amens.
This hymn's first stanza references Romans 14:8 and as we can see it follows the biblical text very closely.
"Pues si vivimos, para el Señor vivimos; y si morimos, para el Señor morimos. Así pues, sea que vivamos, o que muramos, del Señor somos."
"If we live, we live to the Lord, and if we die, we die to the Lord; so then, whether we live or whether we die, we are the Lord's. For to this end Christ died and lived again, so that he might be Lord of both the dead and the living" (NRSV).
The meaning is clear that whether living of dying, we are not alone, we belong to God. Furthermore, it reminds us of the resurrection promise and heritage that is ours because Christ died for us and lives again. What an amazing assurance that is for all Christians, and what a great reminder we need every day!
Stanzas 2-4, written by Dr. Escamilla, are based more loosely on John 15:8, "My Father is glorified by this, that you bear much fruit and become my disciples." He continues the technique of binary opposition begun in the first stanza, which uses "living or dying." Stanza two centers on our lives and how we are to live it and finishes by contrasting "giving or receiving." Stanza three centers on our human feelings of joy and sadness and concludes with contrasting "suffering and rejoicing." The final stanza looks outward to the whole world and a Christian's response to the needs of humanity. The contrast here is "help or nurture," which is not actually a contrast, but two ways to serve a hurting world. While this hymn didn't start out being a four-stanza theological stance on the way a follower of Jesus Christ believes and acts, it was nevertheless developed into a concise statement doing just that.
The success of "Pues si vivimos" is due in large part to the pairing of this gentle melody with the text. Its steady quarter note rhythm and 5 note melody (usually moving scalewise) implies a gentle walk with Christ, resolving back to tonic, thereby giving a sense of security on the word "Señor"—God.
Elise Eslinger was the music editor of Celebremos II, 1983, and provided the harmony to this simple, lyrical melody and gave the tune its name, SOMOS DEL SEÑOR. Ms. Eslinger also provided additional verses to this beautiful melody in English at the same time Dr. Escamilla wrote the additional verses published in Celebremos II. This was not a translation of the Spanish text, but rather an independent English text. In 1987 during the Hymnal Revision Committee process of collecting and translating indigenous Latin American hymnody, George Lockwood provided a translation of Dr. Escamilla's added verses, which became the translation now used in many USA hymnals, including The United Methodist Hymnal and Mil Voces Para Celebrar. Ms. Eslinger's text came to be utilized as an independent, one-verse song, "Shalom to You," found on page 666 in The United Methodist Hymnal, making this a wonderful parting song or benediction.
Shalom to you now, shalom my friends.
May God's full mercies bless you, my friends.
In all your living and through your loving,
Christ be your shalom, Christ be your shalom.**
**Copyright © 1989 The United Methodist Publishing House. Used by permission.

---
References:
Diana Sanchez, Volume Editor, The Hymns of The United Methodist Hymnal (Nashville: Abingdon Press, 1989)
Carlton Young, The Companion to the United Methodist Hymnal (Nashville: Abingdon Press, 1993)
Diana Sanchez-Bu​shong. "Latin American hymnody, USA." The Canterbury Dictionary of Hymnology. Canterbury Press, accessed August 1, 2016, http://www.hymnology.co.uk/l/latin-american-hymnody,-usa.
Robin Knowles Wallace, with CY. "Methodist hymnody, USA." The Canterbury Dictionary of Hymnology. Canterbury Press, accessed July 30, 2016, http://www.hymnology.co.uk/m/methodist-hymnody,-usa.
About this month's guest writer: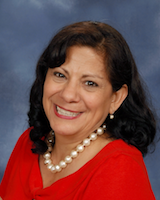 Diana Sanchez-Bushong is the Director of Music and Worship at Westlake UMC, Austin, Texas. She served as the Director of Church Music Resources for the General Board of Discipleship from 1986-1993. She was a staff consultant to the Hymnal Revision Committee that produced The United Methodist Hymnal 1989 and also Mil Voces Para Celebrar, 1996. She continues to write, lecture, and teach in the area of worship and music.
This article is provided as a collaboration between Discipleship Ministries and The Fellowship of United Methodists in Music and Worship Arts. For more information about The Fellowship, visit UMFellowship.org/Hymns.

Contact Us for Help
View staff by program area to ask for additional assistance.
Related
---