Copyright 101: Copyright Myth #10
Myth 10. We want only to copy or project the words.
It's just so the kids in the youth choir will have the words.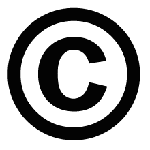 Counting down the top ten myths, false beliefs, and misperceptions about church music copyright, none of which are true.
Explanation: Many people believe incorrectly that for hymns, songs,and choir music, the copyright covers only the music and that it is legal to copy or project only the words in worship. One must check the copyright citation at the bottom of the hymn to see what the copyright covers. It often covers words and music, sometimes even the arrangement or adaptation. Sometimes it covers only the music, in which case the words may, indeed, be copied. Sometimes it only covers the words, which then allows the music to be copied. Users must check the copyright clause to be sure what is protected and what is not be protected. And if the user has purchased a music license, such as CCLI, LicenSing or OneLicense.net, the user must then know what that license allows in the event the song is covered by the license. The license may or may not allow for the reproducing of a copyrighted melody, depending on the desired use. If the song is covered by a user's license, then generally the words may be reproduced or projected in worship, although not for concert or ticket-sale use.
The copying of words only or words and music so that a children's or youth group can have the song to rehearse and sing, even in worship, is prohibited. Music licenses do not cover choir music, even for children or youth. Some licenses will allow the inclusion of copyrighted choir music lyrics in a worship bulletin, although this should not be assumed. Check your music license.
For more help, see the Copyright and Licensing section of the Discipleship Ministries website.
Contact Us for Help
View staff by program area to ask for additional assistance.
Related
---