History of Hymns: "Santo, Santo, Santo"
Santo, Santo, Santo
Traditional Argentine folk song
The Faith We Sing, No. 2007
Santo, Santo, Santo. Holy, holy, holy.
¡Mi corazón te adora! My heart, my heart adores you!
Mi corazón te sabe decir My heart is glad to say the words:
¡Santo eres Dios! You are holy, Lord!
Among the most beautiful and lyrical choruses coming from Latin America, "Santo, Santo, Santo" is unmatched. Little is known about the origin of this song other than it comes from Argentina and is quickly becoming widely used in a variety of denominations and is now found in over 19 hymnals and denominational songbooks. The beauty of this hymn is the simplicity of the text as well as the sweeping melody which succinctly paint a personal, heartfelt image of devotion to God.
The message of this text is found in a number of biblical verses but most pointedly in Isaiah 6:3, "and they all cried out 'Holy, holy, holy is the Lord God of Hosts." Isaiah's vision of the angels crying out and the use of "holy" three times shows the absolute purity of God's nature, the Trinity, and the example the angels set for all of humanity to live in continual praise to God. Isaiah's vision is a revelation of the nature of God. It speaks of a holiness that calls for awe, adoration, and reverence.
Two other scriptures that are relevant here, the first of which is 1 Samuel 2:2: "There is no Holy One like the LORD, no one besides you; there is no Rock like our God," which recounts the singular authority and nature of God, who is worthy to be praised. The other is Psalm 33:21: "Our heart is glad in him, because we trust in his holy name," which again shows humanity's response to a God who is worthy to be praised.
This short chorus, whether sung as a praise chorus, a call to prayer, or some other form of service music, in just a few words and measures provides a vehicle for praying to the Triune God by using the three-fold repetition of music.
When analyzing the Argentinian folk melody, the word "purity" is key. The melody set in the key of C (no sharps or flats) begins with the simple melody moving downward to tonic—a sense of humbling ourselves before God. It then moves into an elegant sweeping octave leap (tonic to tonic) on the word "corazon" or "heart." Here, the image of lifting our hearts, a sursum corda (lift up your hearts), is lyrically depicted in the form of text painting. It happens not only once but, emphatically so, a second time on the same word, reaching once again to the upper tonic C! Devotion, fervent devotion!

---
Sources
Anne Burnette Hook, Editor. The Faith We Sing Worship Planner (Nashville: Abingdon, 2000)
Diana Sanchez-Bu​shong. "Latin American hymnody, USA." The Canterbury Dictionary of Hymnology. Canterbury Press, accessed August 1, 2016, http://www.hymnology.co.uk/l/latin-american-hymnody,-usa.
About this month's guest writer: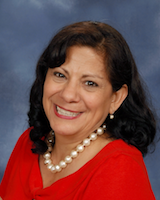 Diana Sanchez-Bushong is the Director of Music and Worship at Westlake UMC, Austin, Texas. She served as the Director of Church Music Resources for the General Board of Discipleship from 1986-1993. She was a staff consultant to the Hymnal Revision Committee that produced The United Methodist Hymnal 1989 and also Mil Voces Para Celebrar, 1996. She continues to write, lecture, and teach in the area of worship and music.
This article is provided as a collaboration between Discipleship Ministries and The Fellowship of United Methodists in Music and Worship Arts. For more information about The Fellowship, visit UMFellowship.org/Hymns.

Contact Us for Help
View staff by program area to ask for additional assistance.
Related
---