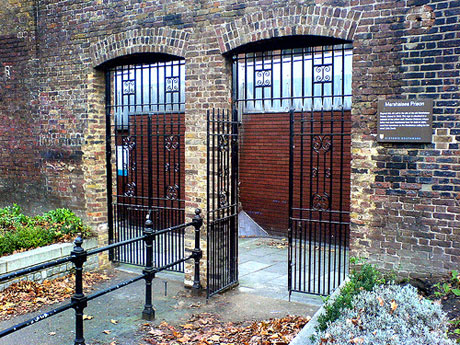 The gates and wall at Marshalsea Debtors Prison, South London.
Image by Russell Kenny. Used by permission. CC BY 3.0.
Exodus 12:1-14.
God instructs Moses and Aaron how the people are to prepare for "The Passover of YHWH" and its observance throughout all generations.
Psalm 149 or 148 (UMH 861).
Romans 13:8-14.
Paul exhorts the Romans to "owe no one anything except to love one another; for the one who loves another has fulfilled the law."
Matthew 18:15-20.
Jesus teaches how to deal with conflict between church members, speaks of binding and loosing, and promises his presence wherever two or three are gathered in his name to deal with conflicts that have outgrown the efforts of the individuals involved to resolve them.
Worship Notes
Calendar
We continue in this Season after Pentecost to pursue the season's main purpose—to support and challenge the baptized to live out the discipleship and ministries in the world in Christ's name and the Spirit's power.


September brings with it the possibility of pursuing a related theme either topically or using the existing lectionary texts. Called Season of Creation, the four weeks of September provide an opportunity to explore how our relationship to the creation and other creatures relates to our calling to discipleship and ministry. The original Australian developers of this mini-season have developed topical resources unrelated to the lectionary, here.
Discipleship Ministries provides planning starters based on the lectionary readings for each Sunday.


During October, Discipleship Ministries also provides resourcing to enable your congregation to observe A Season of Saints, expanding the opportunity for your congregation to lift up historic Christian saints, significant leaders from our United Methodist heritage, and local saints you identify where you are—all in service to the overall mission of the Season after Pentecost. This is the fourth year we have provided support for this focus during this month, stretching from World Communion Sunday through All Saints Day/Sunday. Feedback from congregations who have pursued these series has been consistently positive! So consider whether this may be helpful in your context as your planning team completes its work for this season!

Hispanic-Latino Heritage Month is a U.S. civic observance (September 15-October 15) recognizing the contributions of Hispanic and Latino persons to U.S. history and current culture. Resources specifically for this observance are linked above. For many more Spanish language and Hispanic-Latino resources, see Discipleship Ministries's Hispanic-Latino Resources page.

September
Whole Month: Season of Creation (2014 Discipleship Ministries lectionary-based themes and overview).

September 1 Labor Day (USA) (August 31, Labor Sunday)
September 15-October 15: Hispanic Heritage Month

October
Whole Month: A Season of Saints
October 5: World Communion Sunday (Discipleship Ministries Resources); "Living into the Mystery" Video (streaming; to order on DVD, send request to [email protected])
October 12: Children's Sabbath (Discipleship Ministries Resources)
October 19: Laity Sunday
November
All Month: Native American Heritage Month
November 1/2: All Saints Day/Sunday (Also see Church and Civic Holidays)
November 9: "Restored" or Extended Advent 1, Organ and Tissue Donor Sunday (USA), International Day of Prayer for the Persecuted Church
November 11: Veterans Day (USA) (GBHEM resources)
November 23: Bible Sunday in National Bible Week (November 23-30) (USA)
November 27: Thanksgiving Day (USA)
November 30: Advent (Regular) Year B Begins, United Methodist Student Day

Exodus: The Way of Deliverance, Week 3
The Passover of YHWH & The Passover of Christ
Through the Passover celebration as described in this week's reading, YHWH prepared the people for deliverance from oppression and death and to establish themselves in a homeland given to them. Through the yearly celebration of the festivals of Passover and Unleavened Bread, the Jewish people have remembered the heart of the nature of God as gracious, merciful and deliverer of the oppressed. In Holy Communion, Christians claim all of this about God and identify Jesus Christ as the one through whom all peoples are delivered from the power of sin and death.
This week's reading from Exodus 12 offers the longest sustained description and theological analysis of the festivals of Passover and Unleavened Bread found in the Bible. Though scholars disagree on the particulars of these two festivals prior to their joining attested in this text, most agree that each had an independent existence, initially unrelated to the events of the Exodus itself, and that this text represents the height of authoritative efforts to connect the festivals to each other and to the identity of the Israelite people. There is some consensus that Passover (pesach) had been an annual equinox celebration among nomadic peoples (shepherds) while Unleavened Bread (massot) had been a thanksgiving festival among more settled agrarian peoples at the time of the spring barley harvest. The insistent statement in 12:11, "This is the Passover of YHWH," distinguishes Israel's specific cultic practices from those of other cultures with similar rites and celebrations and makes an explicit link between this annual celebration and YHWH's claim on this people as their deliverer from slavery in Egypt.
A careful reading of Exodus 12 and 13 as well as other texts in the Bible and extra-biblical sources describing the festivals of Passover and Unleavened Bread reveals a multilayered interpretation and re-interpretation of ritual practice, theological meaning, and religio-national identity over time. For example, the specific ritual practices described in the verses we read from Exodus 12 do not identify this meal as the result of a sacrifice performed by religious professionals in a central place of worship. That development happened later, once there was an established temple and priests to perform that ritual work. Instead, here, heads of families or kinship groups are instructed to prepare a lamb or young goat they had obtained, slaughter it (not "sacrifice"—a different word in Hebrew) four days later (on the night of the vernal equinox, 14 Nisan in Israel's lunar calendar), cook it whole over a fire, and eat as much of it as possible, along with vegetables and unleavened bread. Whatever remained of the carcass and meat was to be burnt entirely (Exodus 12:3-10). These same heads of families would be responsible for placing some of the blood of the slaughtered animals on the doorposts of their houses as a sign to protect them from either God's intent to kill the firstborn of people and animals (verse 12) or from the "angel of death" (ascribed to have been the actor, rather than God, in later rabbinical commentaries, but nowhere mentioned in scripture). Some scholars believe the role of the blood of the lamb or goat in the earlier "pagan" Passover ceremonies may have been initially been a kind of an offering to ask the gods or "angels" to protect the flock and bring about an abundant spring mating and birthing season.
Whatever the origins of the rituals described here may be, and however those origins may have been adapted over time, our text for this week describes this ritual as enacting several things of note for God's covenant people. It unites families and neighbors, establishes a common meal, seeks and trusts in God's protection, and, above all, proclaims God's intention to deliver and preserve God's people from oppression and the powers of death.

Followers of Jesus, who celebrated this festival with his family and his disciples throughout his life and ministry, have made additional theological and liturgical connections with this feast. With Paul, we understand and profess Jesus Christ to be "our Passover," sacrificed for us, calling us to keep the feast not with the old leaven of malice and evil, but the unleavened bread of sincerity and truth (I Corinthians 5:8). With generations of Christians who have celebrated the Great Vigil of Easter, we proclaim in the ancient hymn, the Exsultet:
This our Passover feast, when Christ, the true Lamb, is slain.
This the night when first you saved our forebears,
you freed the people of Israel from their slavery
and led them with dry feet through the sea…

This the night when Jesus Christ broke the chains of death
and rose triumphant from the grave,
night truly blessed, when heaven is wedded to earth,
and we are reconciled to you!
(Excerpted from The United Methodist Book of Worship, 370).
And with the generations of Christians who have celebrated Holy Communion in forms we can recover from as early as the second century, we have celebrated the connection between Christ's deliverance from sin and death once for all, the final meal he shared with his disciples, the meal we share with him in which by the Spirit's power the Father enables us to receive and share his body and blood, and all other meals we share with each other and with others as we are sent out to follow and serve in Christ's name.
In Your Planning Team

Which of these emphases related to the passover story do folks where you are need to focus on or to hear more about today to help them take their next steps in discipleship and ministry?

How are you or people among you or around you engaging in concrete practices to unite family groups and neighbors?

Where are you facilitating in the sharing of common meals with neighbors? How do these meals you share become signs of trust in God's protection? How do they proclaim God's intention to deliver from whatever forces of oppression and death you may be facing together?
Who in the life of your congregation and community clearly lives in ways freed from malice and evil and filled with sincerity and truth? Who has a testimony about how Christ has broken chains of death? Who witnesses about seeing heaven wed with earth, and where do they see signs of this? How does reconciliation to God through Christ play out in the lives of people where you are? And how does the celebration of Holy Communion where you are connect people with the Risen Lord Jesus and inform and transform their discipleship to him in the world?
Which of these many possible emphases will best guide your planning for this first Sunday of the month, and so likely a Communion Sunday? And how might each of these have bearing on the design of worship space—art placed or performed, the location of seating and the Lord's Table, the kind of music you may sing, and the way you will move and invite persons to respond?
Romans: Theology for Ministry, Week 12 or 7 or 3
Debt-Vision or Love-Vision?
Our reading this week from Romans 13 continues the "house rules for Christian living" we began two weeks ago in Romans 12. The Revised Common Lectionary does not include Romans 13:1-7, one of several New Testament texts exploring the relationship of Christian communities to the governmental systems in or under which they lived. You may wish to expand the reading to include these verses, especially if you are in any way addressing US Patriot Day in worship today.
If you do expand the reading, however, be sure to keep the primary focus on the larger context in which Paul has set it. In Romans 12, Paul focused on the life of Christians inside the community, and began to look at how Christians are called to reach out in love and care toward those outside the Christian community even when others may persecute them. It is in that larger context of Christian connection to the world in general, and potential or actual persecutors in particular, that Paul wrote the words we read today. And these words come at a time not long after Jewish people in Rome, including Jewish Christians, had been banished for religious reasons (AD 49, under the Emperor Claudius) and were only in more recent years being repatriated (as of AD 54). So Paul's counsel here is not offered on the basis of some supposed "Christian theory of civil government," nor was he trying to establish such a theory for all time. Rather, they reflect what he understood it meant to live as Christ's disciples under his Lordship in the very concrete circumstances in which his audience (and he himself) found themselves. If there is a universal theory here, it is nothing less than Christ is Lord, always, everywhere.
Our text proper begins in verse 8 with a strong double negative in Greek. We might directly translate it "Owe nobody nothing, except to love each other!" The point of such double negatives in Greek is to intensify rather than negate. A more complete translation into English might be along these lines: "The only thing you should ever owe to anyone is love." Paul's point here is less about finances than about relationships. He rejects any "debt-vision" of relationships, endemic to many cultures, and his commends a counter-cultural, Christian "love-vision." The debt-vision defines neighbor as those to whom one owes something. The love-vision defines neighbor as Jesus did—one to whom one may give, motivated by compassion and love. Live the love-vision, and the whole law is fulfilled and every neighbor is loved, not wronged.

The remaining verses in this chapter place all of the preceding conversation about how we live with each other and with others in its ultimate context: the coming day of the Lord. To be sure, like many first-century Christians, Paul expected a second coming of Christ and final judgment to happen very soon. This did not occur on the timeline he or many others had expected. But his point remains: Christians have a basic and ultimate calling to live personally, interpersonally, and publicly as shining examples of the way of our Lord and Teacher. No more moving about in shadows to attempt to hide our love of sin from others or from God! We are called to forsake not the people in the shadows, nor the shadows themselves, but the ways of life found there, dispelling the shadows not by avoiding them, but by letting Christ's light shine in and through us.
Paul cites six concrete examples of behaviors we have been baptized and reborn to avoid and reject: reveling, drunkenness, debauchery, licentiousness, contentiousness, and jealousy. He further identifies these as "behaviors of the night," perhaps in part because, practically speaking, many of these might "come out at night." He's calling instead for our best daytime behavior, 24/7, not even scheduling time for such things lest we act upon lust rather that Christ in whom we have been clothed.
What we wear over the flesh—the Lord Jesus Christ-- is the critical imagery here. What we wear over the flesh both subdues the flesh and portrays a different image than the flesh itself would portray. In modern western cultures, the notion of putting on a covering has been equated with the ancient theater practice of wearing a mask, an action that in Greek gives us our word hypocrisy. We equate any attempt to subdue or cover "impulses" as a form or "repression" or "inauthenticity." Such a view, in the final analysis, leaves us ultimately enslaved to whatever those desires of the flesh may be, with the notion, to use Freud's terminology, that at the end of the day the "Id" is always what is "really real" and everything else is an attempt at self-justification. If we believe Freud, we can never hope to escape the ultimate control of the flesh.
While there would certainly have been some schools of philosophy (Greek and Roman) that would have agreed with modern Western views in Paul's day, they were not the only or the default understanding in Roman culture. Putting on the clothing of a particular profession was more basically understood to establish who you were, not just what you did. Putting on armor of light, then, means you are light and are protecting yourself against darkness. Putting on the Lord Jesus Christ means that you become him. In this case, as all the verbs are plural, we as body of Christ become Christ.
Thanks be to God, Christians have two millennia of living witnesses to the power of Christ delivering us from the "desires of the flesh." We know what it is to have "baser passions" but not be controlled by them. We know what it is for the Holy Spirit truly to "cleanse the thoughts of our hearts" so that we can offer genuine praise to God and love to others. We know what it is to put on Jesus Christ as a garment -- first in our baptisms, and daily as we walk with Jesus in the Spirit. We know, or can know again if we have forgotten, what it is to walk in the light of God.
This text is less an invitation to tell people to "clamp down" on sin in their lives and much more an invitation for people to give witness to how Jesus Christ has delivered them from the works of darkness. Sharing such testimony with others is a critical part of our discipleship to Jesus Christ, and the evangelism we are all called to engage. Christ can and does set us free from reveling, drunkenness, sexual immorality (of thought or action), contentiousness and jealousy. Through him we are made able to walk in sobriety, purity, generosity and grace, not allowing the works of darkness to take root again. And don't forget contentiousness and jealousy. Each item on this list is equally perilous to our souls and bodies as individuals and communities as the others.

In Your Planning Team
Today's text can move in two (three if you include verses 1-7) very distinct directions. One relates to how we as Christians live under Christ's Lordship in the context of our own relationships with "the state" or civil order. Another contrasts debt-vision and love-vision for our relationships and calls us to the latter. The third focuses on the power of Christ to help us concretely overcome the power of sin and live as those who have "put on Christ" day after day.

Your first task as pastor and planning team is to determine which of these directions you most need to pursue in this service at this time. Maybe you can do all three, or maybe you can do just one or two of them. Talk through that, first of all, and then decide.
Questions for a Debt-Vision vs. Love-Vision Focus

What are the signs of debt-vision in relationships where you are? How are people being ensnared by it? Where are signs of love-vision in your congregation and community? How is this love-vision setting those who have it and those around them free from debt-vision, as well as fulfilling God's purposes for community? What artwork, music or arrangement of worship space might help to inspire more of your worshiping community to take Paul's teaching seriously and to move from debt-vision to love-vision for every neighbor?

Questions for an Overcoming Sin and Putting on Jesus Christ Focus
Who has a testimony of "leaving the shadows" and "walking in the light" where you are? How might worship space include imagery that reflects the coming of Christ, putting on Christ, and authenticity as measured by our transformation in him?
Matthew: On Mission with the Master
The Centrality and Practices of Reconciliation for Disciples of Jesus
The reading from Matthew this week offers a locus classicus for Christian teaching about forgiveness and reconciliation. If "love your neighbor as yourself" was the "second and great commandment, like unto the first," Jesus's teaching in these few verses may well have been the third. References to this teaching appear more frequently than nearly any other in early Christian letters, descriptions of worship, and "church orders" (documents that provide guidance for organizing the life of the church) in the first four centuries.

The process Jesus commends is simple and straightforward. Persons in conflict or who have hurt each other should begin by working out their differences directly, person to person, involving no one else if at all possible. If that fails, someone needs to call for help from "two or three." The role of the "two or three" appears to be a combination of mediation and arbitration. The "two or three" are there to make sure both sides are hearing the other. They also have the authority to advise on what needs to be done to make things right. If their efforts fail, then the church as a whole is called in, with similar responsibilities. And if there is no remedy, if "the offender" refuses to listen, then the church is to treat these persons as "a Gentile and a tax collector."
The interpretation of this last instruction has opened a variety of responses over the years. Some early Christians understood this to mean that such persons were to be banished ("banned") from the community of the church. Given that a good number of early Christians lived in shared housing, this could be a serious response, indeed.
Others used this text as the basis for excommunication (not permitting persons to participate in Holy Communion, but not banishing them entirely).
Still others understood it in the light of the way that Jesus himself treated Gentiles and tax collectors—healing them and continuing to invite them to discipleship, giving folks a chance to start again from the bottom.
Over the first several centuries, it appears that a vision of healing and continuing invitation to discipleship seemed to set the general tone of Christian response. Excommunication would be practiced as a regular interim solution for breaches of church discipline, but only for a defined period of time. The only basis permitted for permanent excommunication articulated by the late fourth century was a second offense for willfully trying to destroy the fellowship of the church. (For more detail about these practices in early Christianity, see my dissertation, The Teaching of Peace in Early Christian Liturgies.)
Reconciliation is a core practice of Christian community, guaranteed by the work of God and presence of Jesus himself. The verses that end this week's reading address this point head on. The actions of binding and loosing (verse 18) are actions of community in response to internal conflicts and breaches of relationship. The community binds or looses both to set or reset the parameters of community life and to determine appropriate responses when those parameters have been broken. Jesus guarantees divine support for the community's decision. ("Whatever you (plural) bind/loose on earth is bound/loosed in heaven.") Likewise, Jesus guarantees his presence for the work of the "two or three" whenever they are called in for assistance (Whenever two or three are gathered, I am in their midst" verse 20), and to seal and enact agreements for reconciliation worked out one on one ("Whenever two of you agree on anything on earth, my Father in heaven will do it" verse 19).
With such clear guidance and guarantee of divine support for reconciliation, Christians and congregations need not fear conflict. We have been given and assured every resource necessary from Jesus himself to engage any conflict with confidence, hope and love.

In Your Planning Team
Where are the living examples of people and processes that follow what Jesus taught and trust in God's support for working through conflict where you are? Do you have mediators in your congregation? Persons involved with VORP (Victim Offender Reconciliation Process)? Diplomats? Arbitrators? Contract negotiators? Labor representatives involved in resolving disputes? How might you invite their input and participation in your worship planning team as you design worship for today?
To what degree do you have teaching and processes in place in your congregation to live out Jesus' teaching in this week's text? Who is teaching these principles? Who is reminding folks how to live them, and of ways the congregation is ready to help that happen?
How does the celebration of Holy Communion where you are take seriously acts of reconciliation? How does the Peace work where you are? Is it just a greeting time? Or is it, as our ritual intends, an opportunity to seek peace or, at a minimum, declare an intention to seek peace with those with whom one may be in conflict?
Consider this guidance from Mark Stamm. Professor of Worship at Perkins School of Theology, in Living into the Mystery: A United Methodist Guide for Celebrating Holy Communion:
The Peace: Embodying the Words

Following the historic practices of the church, this exchange of the peace of Christ
is intended to be about real reconciliation. Accordingly, the Peace is primarily an
opportunity for worshipers to reach out to others present with whom they may be
in conflict to offer a sign of forgiveness and a pledge toward reconciliation.

Whether conflict is present or not, to offer another the peace of Christ is to offer a
blessing. God has forgiven our sins and offered peace through Christ to all who
have confessed their sin. Now all may offer the benefits and blessings of this peace
to one another.

It is not necessary for every person to offer the peace to every other person. Instead, invite the congregation to be mindful of those
they need to seek out to offer reconciliation, and perhaps offer the peace as well to others nearby. At the same time, however, we should not resist
or quench the work of the Spirit among us—including the possibility of an
"outbreak" of love and reconciliation—by over scripting or controlling this
moment in worship. Many congregations enjoy a passing of the peace that
continues for several minutes.

However the pastor and the congregation work out the details, the Peace belongs
directly before the collection and the congregation's offering of the Great
Thanksgiving. When the Peace is offered here, its connection to Holy Communion
is most clear. When offered at the beginning of the service or at other places, it
may become little more than a friendly greeting of one's neighbor. Offered here,
however, the Peace becomes for us a profound act of final preparation to offer
ourselves and our gifts fully to God.
How might you and your worship planning team help bring the teaching of Jesus and your practices around the Lord's Table into deeper alignment in worship today?
Embodying the Word: The Intercessions for the Thirteenth Sunday after Pentecost, 2014
This week and throughout September, we'll be exploring and offering examples of ways to engage the congregation more fully in its priestly ministry of intercession as a response to the Word in worship.
Early Methodists had developed vibrant forms of congregational intercession in several venues. The majority of them participated in Sunday worship in a Church of England congregation that included a rich tradition of daily prayer as well as intercession, led by the priest. Those daily prayers included specific intercessions for the church, the leaders of governments, for persons who were suffering, and in thanksgiving for the dead and for courage for the living to follow their good example.
In their class meetings (Thursday nights in homes) and society meetings (Sunday nights at the Society hall), early Methodists also learned and led ex tempore forms of prayer for God's power to transform their lives, for each other, for the ministries they were involved in, and for the salvation of those who were falling away.
During the nineteenth century, as Methodists in the U..S began to seek "respectability" in worship, congregational prayer became more and more the domain of "the pastoral prayer," in which the preacher would offer prayer on behalf of the congregation with rhetorical polish, much like an extended sermon, but in a different tone of voice. Such respectable, "pastoral prayer" became the expected norm in Methodist worship in the U.S. to the degree that official Methodist ritual texts, up to and including the 1964 Methodist Hymnal, included it as part of the standard service order (see The Methodist Hymnal, 1964, p. xi).
Part of the fruit of liturgical studies beginning in the late nineteenth century and Wesleyan studies by the middle of the twentieth century was to recover, if only as an option, the central role of the whole assembly in intercessory prayer. The rubrics of the "standard service" in The United Methodist Hymnal, 1989 indicate the following:
"Brief intercessions, petitions, and thanksgivings may be prayed by the leader, or spontaneously by members of the congregation. To each of these all may make a common response, such as "Lord, hear our prayer." Or, a litany of intercession and petition may be prayed. Or, a pastoral prayer may be prayed" (UMH, 7).
The placement of the pastoral prayer last on this list was intentional. Placing at the top of this list a more spontaneous and participatory approach to congregational praying led by a leader, not necessarily clergy, was also intentional. The middle option, a responsive litany (probably with read prayers and responses, and perhaps time for congregational input from time to time) attempts to combine the "formal" and the more spontaneous. As a church, we are seeking to remind our congregations and leaders, lay and clergy, that the ministry of intercession is primarily theirs, a ministry of the whole people. The ministry of intercession is given by God to the laity first, so the laity should take both personal and corporate responsibility to pray and lead in prayer rather than expect clergy or other "professionals" to do this work "for them."
In some contexts, including African, Asian, African American, and Spanish-speaking traditions, the pastoral prayer is a prayer of the people. The pastor leads in praying, but others pray actively as well, both aloud and with their bodies. Some may come forward to join the pastor in praying, and others may come forward to receive prayer with laying on of hands by the pastor and others at this time.
But perhaps for most of us in the United Methodist Church in the U.S., the pastoral prayer today is a version of what it had become in the nineteenth century through the late twentieth century: a prayer by the pastor for the people in which the people do not actively engage.
How does your congregation pray right now when you gather on Sunday? How will you as a pastor and worship planning team begin the process, if not already begun, of helping the congregation own its ministry of intercessory prayer more fully?
There are two elements to consider in offering intercessory prayer: comprehensiveness and focus. The comprehensive scope of congregational intercession normally includes:
the leaders and mission of the church locally and across the world;
the leaders of nations, peoples and economies, for justice and peace;
the earth and its care;
the sick, the poor, the marginalized and those in any danger;
the people who have entrusted themselves to our prayers; and
thankful remembrance for those who have died in Christ and whose prayers continually accompany our own.
On a given Sunday, the focus of prayers around each of these areas, and others as the congregation and worship planners may see fit, may be drawn most fruitfully from the Scriptures for the day, and in particular the text (Ordinary Time) or texts (Advent 1-Epiphany, Ash Wednesday-Pentecost) that have been the focus for the day in preaching, drama, art and music. When sacraments are being celebrated, the prayers may reflect and draw on imagery from the sacramental liturgy/ies as well.
Prayers of the People Based on Matthew 18
Invite three people to serve as leaders for this prayer, parallel to the two or three cited in Matthew 18. Place these persons at points around the worship space, two in side aisles facing toward the people and one standing by the font (at the front or back of the worship space). Invite the people to stand, to raise hands, and to sing a simple response such as "Hear our prayer, hear our prayer, hear our prayer" to the second line of the tune of "Going Home" or to another simple tune you may select.
Leader at font: With all our hearts, in the unity of the Spirit, let us pray to God:
People: Hear our prayer, hear our prayer, hear our prayer.
Leader left: For the leaders and people of this congregation, conference, and episcopal area, lay and clergy…
People: Hear our prayer, hear our prayer, hear our prayer.
Leader right: For all of the people in all of the places where we are in mission in our daily lives in this community, and, through our partnership and gifts, throughout the world, and on this day especially for the people of Albania, Bosnia-Herzegovina, Croatia, Macedonia, Slovenia, and Serbia/Montenegro… (see Ecumenical Cycle of Prayer, below)
People: Hear our prayer, hear our prayer, hear our prayer.
Leader font: For the leaders of nations, especially the leaders in each branch of the government of this nation, this state, and this local community…
People: Hear our prayer, hear our prayer, hear our prayer.
Leader left: For a spirit of reconciliation and healing to prevail among us all…
People: Hear our prayer, hear our prayer, hear our prayer.
Leader right: For deeper bonds of fellowship and trust, and that we, your people, may trust in your presence and provision when we are in conflict…
People: Hear our prayer, hear our prayer, hear our prayer.
Leader at font: For the earth you have placed in our hands to enjoy, to care for, and to share with all your creatures…
People: Hear our prayer, hear our prayer, hear our prayer.
Leader left: That we may live in deeper harmony with the rhythms of this planet…
People: Hear our prayer, hear our prayer, hear our prayer.
Leader right: And that we may, by personal and corporate witness, reduce the harm we cause ourselves, other people, and our fellow creatures by the ways we live and use earth's resources.
People: Hear our prayer, hear our prayer, hear our prayer.
Leader at font: For all who are sick and need your healing…
People: Hear our prayer, hear our prayer, hear our prayer.
Leader left: For all who are poor, and for the will and resources to end the diseases that shorten their lives…
People: Hear our prayer, hear our prayer, hear our prayer.
Leader right: For the homeless, refugees, prisoners, soldiers and all who are in danger, that they may be delivered and protected…
People: Hear our prayer, hear our prayer, hear our prayer.
Leader at font: For all laborers in this nation and around the world, and all others who have asked us to pray for them, whom we name in our hearts or with our voices… (pause)
People: Hear our prayer, hear our prayer, hear our prayer.
Leader left: For all who have died in recent days, and for all who grieve… (pause)
People: Hear our prayer, hear our prayer, hear our prayer.
Leader right: In thankful remembrance of all whose lives have pointed us to you, and whose prayers and praise we join at Christ's table…
People: Hear our prayer, hear our prayer, hear our prayer.
Leader at font: Yours is the glory, Almighty God!
Leader left: You are worthy of all praise, Jesus!
Leader right: To you, in the power of the Spirit, we give glory, one God, now and ever.
People (singing same tune): Amen. Amen. Amen
Resources in The United Methodist Book of Worship/UM Hymnal with Links to Other Suggestions
A time of silence or the singing of the "Kyrie," number 2275, in The Faith We Sing, would be appropriate before the declaration of pardon. Continue with the "Pardon" sequence on page 8 in The United Methodist Hymnal or page 617 in The United Methodist Book of Worship.

For another litany in the form of remembrance and confession, go to http://www.ncccusa.org/interfaith/sept-11-litany.html.
Greeting: 202 (sung or said; Matthew); 478 (Psalm and Exodus)
Acts of response to the Word: If you did not use it last week, you may want to use "Goodness Is Stronger Than Evil," 2219, The Faith We Sing, as a sung response and affirmation following the Romans reading or the sermon:

In a world longing for love that is genuine and forgiveness that is real: R

In a world where workers are losing rights and the rich are gaining power R
In a world still still hurting because of war, famine, and oppression of minorities: R
In a world seeking revenge: R
In a world anxious to demonize "the enemy": R
In a world torn by ethnic and religious strife: R

(Add, adapt, or create appropriate lines for your community. The song should be sung vigorously and assertively; use gesture and movement for bodily emphasis!)

Confession: 484 or 488, UMBOW (Matthew); (This may be used in any service or as the "confession" in "Healing Service I.")

God our hope and refuge,
we confess that anger and hatred have held on to us.
Healing has begun, but loss is still real.
We are not in control.
We don't like being vulnerable.
We still want security or the illusion of it.
We still want our enemies to be annihilated
and for our lives to return to safety and Shalom.
Forgive us and heal us.
Raise us to new life.
Strengthen us in the way of compassion and justice.
Fix our faith on you
so we know that nothing can separate us from you,
through Jesus Christ our Lord. Amen.
Concerns and Prayers: "A Prayer in a Time of National Crisis," 517, UMBOW (Exodus, Romans); "For Peace," UMBOW, 520 (Romans).

Ecumenical Cycle of Prayer: Albania, Bosnia-Herzegovina, Croatia, Macedonia, Slovenia, and Serbia/Montenegro

The Great Thanksgiving: 70-71, UMBOW

Prayer of Thanksgiving if there is no Communion: 552, 553, UMBOW.

Dismissal with Blessing: Consider singing "O God, Our Help in Ages Past," 117, The United Methodist Hymnal,
and preceding or following it with this or some other blessing and dismissal:

Go forth to serve the Lord/God
and to love the world until God's peace reigns. Amen.

May God be your dwelling place.
May you abide under the shadow of the Almighty.
May you fear no terror by night, nor any destruction at noonday.
May Christ so love through you that all the commandments of God are fulfilled.
Amen.