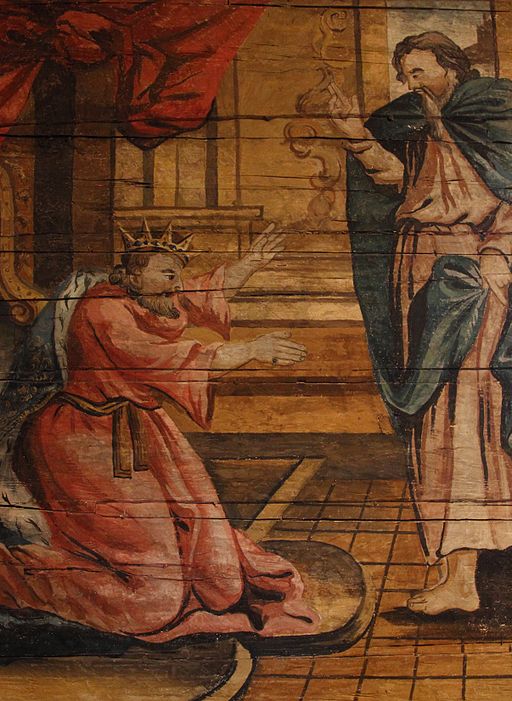 Detail from Nathan Confronts David. Painting by Emanuel Granberg, Finland, Muhos Church, 1773-1778. Public Domain.
Reading Notes
Revised Common Lectionary Readings
See the texts, artwork and Revised Common Lectionary Prayers for this Sunday at the Vanderbilt Divinity Library
2 Samuel 11:26-12:13a. David takes Bathsheba, pregnant with his child, into his household as one of his wives when news of Uriah's execution arrives. The Lord sends Nathan to rebuke David and to announce a curse upon him and his family. David acknowledges his sin.
Psalm 51:1-12 (UMH 785). A psalm sometimes described as David's confession after the confrontation with Nathan. If you sing the Psalm, consider using Response 1 with Tone 5 in D minor or Response 2 with Tone 2 in C minor. See UMH, pages 736-737, for more details.
Ephesians 4:1-16. The abundant giftedness of the members of the body of Christ is designed by God to build up its unity under Jesus Christ and in the power of the Holy Spirit.
John 6:24-35. Jesus announces to the crowd that crossed the sea to catch up with him, "I am the bread of life."
Worship Planning Notes
Calendar
Series and more series: That's what the Season after Pentecost invites. But the invitation is not to series for series sake. Nor is it to a random array of series. Rather, the invitation is to pursue series that will challenge and support disciples of Jesus where you are as they live out their ministries in the world.

If you are using the Revised Common Lectionary, you are in the midst of one of three series at this time. The David saga, focusing on our leadership as disciples, and the series in Ephesians, focusing on creating and sustaining unity across networks of people and congregations, continue through the end of this month. When you're in the middle of a longer series, such as these, be sure give particular attention to maintaining the energy and momentum of the whole and showing how what you're doing on any given Sunday is both building on what came before and leading toward where you're heading.

The gospel series on Holy Communion in John's Gospel, by contrast, has just begun. While the launch for any new series requires careful planning and execution, it's often the second week that ensures its success as a series. The launch week is primarily about laying out the promise of the series to come. Week 2 is when you begin to deliver on that promise—or not! Plan well to deliver, this week and each week to come.

How are you beginning to plan now for after "vacation season" comes to a close? See "Seasons and Series for Fall 2015" on the United Methodist Worship Blog or "Planning Worship for Discipleship and Ministry for the Season after Pentecost, Year B" on the Discipleship Ministries website for suggestions and resources.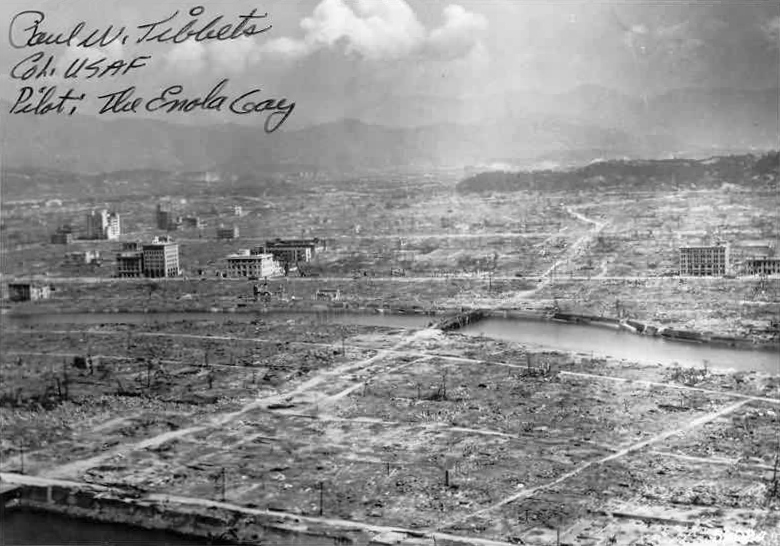 In the secular calendar, Hiroshima Remembrance Day is this coming Thursday, August 6. Seventy years ago, on August 6, 1945, just before 8:15 a.m. Tokyo time, the United States dropped the first atomic bomb, nicknamed Little Boy, on the city of Hiroshima. Leveling more than sixty percent of the city, the bomb caused 70,000 residents to die instantaneously in a searing flash of heat. More than 140,000 had died by the end of the day.
Thousands died more in the subsequent weeks from radiation poisoning and burns. The Truman Library offers educational resources. The United Methodist Council of Bishops provided a statement on the 60th anniversary in 2005. Discipleship Ministries offers Hiroshima and Nagaski Worship and Prayer Resources. (Image to the right: "Aftermath in Hiroshima" Public Domain)

August

August 6 Hiroshima Nagasaki Memorial

September

All Month Season of Creation (global and ecumenical)
September 7 Labor Day (USA)
September 15-
October 15 Hispanic Heritage Month (USA)

October
All Month Season of Saints
October 4 World Communion Sunday
October 11 Children's Sabbath
October 18 Laity Sunday
November
November 1 All Saints Day (USA Standard Time Begins)
November 8 Extended Advent Begins
Organ and Tissue Donor Sunday
Day of Prayer for the Persecuted Church
November 11 Veterans Day (USA)
November 22 Christ the King/Reign of Christ Sunday
Bible Sunday (USA)
November 26 Thanksgiving Day (USA)
November 29 "Regular" Advent Begins
United Methodist Student Day

Atmospherics
Old Testament: The David Saga
Week 9: Confronting Our Sin, Personal and Collective
In 2 Samuel last week, we watched David's crimes unfold. This week, we encounter the consequences—rebuke from a prophet and a curse on his family to last for generations. "The sword shall never depart from your house" (2 Samuel 12:10) meant that his family would begin tearing itself apart from that point forward. Next week, we will see that curse beginning to come to fruition in the rebellion, usurpation of the throne, and then the death of Absalom. David would eventually die as a feeble, shivering, and broken man. Ultimately, after Solomon was able to consolidate power during his reign, Israel itself would be divided into two nations in the coming generation. David's crime spree we saw last week wasn't the only cause of the dissolution of the unified nation. But today's reading cites it as a significant contributor.

How do disciples of Jesus respond when we are confronted with our sin?

We do what David did.

We acknowledge what we have done.

We do not blame others. We do not make excuses. We do not provide reasons.

We acknowledge we have sinned.

Full stop.

With that acknowledgment we recognize there is more work to be done. We now must reconcile where we can, repair or restore what we can, and take responsibility for what we did and whom and what we harmed, in whatever form that responsibility may come.

Our feelings of sorrow about what we have done do not fix what we have done. They do not even establish a basis for forgiveness or our own restoration. No amount of mea culpa, per se, can fix what is destroyed. Restoration depends on grace from God and one another and our diligence as the offender to make right what we wronged where we can.

And then recognizing and dealing with the reality that some of what we have done may not only be irreparable in our lifetimes, but may continue for generations to come. So it was with David's series of sins and the curse Nathan pronounced.

And that curse points us beyond just our own individual sin and toward the reality of the ways we are equally complicit in and harmed by collective sin.

After all, David in Israel's history is the symbol of Israel's kingship at its very best. So the judgment and curse here stands as a judgment against human kingship—and later, empire—itself—and not solely against David.

All human empires and governmental powers stand under the judgment of God whenever they take for themselves what belongs to others and kill the innocent. Consider whether or how this text may lead your reflections or prayers about Hiroshima and Nagasaki Remembrance Day, or the ways your government (and mine) has treated indigenous peoples, immigrants, persons it may have enslaved, and people it may have disenfranchised or kept disenfranchised. This week, the Governor of South Carolina has called for the removal of the Confederate Battle Flag from the statehouse grounds, in partial recognition of the way adopting and retaining that symbol may have been implicit in the murders of African American sisters and brothers attending a Bible study at their church in Charleston earlier this summer.

As disciples of Jesus Christ, we are committed both to repent of (turn away from) our own sin and to resist evil, injustice, and oppression—corporate sin—in whatever forms they present themselves, day in, day out. We do neither self-righteously. We do both in humility, recognizing our own weakness and captivity. But we also do both honestly and boldly, recognizing the power of God that can and will deliver us and the world from both.

I have sinned. We have sinned. Jesus saves.

In Your Planning Team

Last week, you reviewed David's sin, and, I hope, created venues in worship and during the week for people to confess their corporate and personal sin. Last week's helps described the role of the bands in early Methodism and encouraged you to create opportunities for people to experience a process of confessing personal sin to a trusted group of others or an individual.

If you've done all that, and if folks are starting to meet with groups like this, then this week is time for testimony.

Testimony after experiencing such a process just once may not be the most valuable thing. Anything new can seem either very meaningful or very awkward the first time or the first few times you do it. The value of the bands in early Methodism was not a one-time "come to Jesus" spiritual experience. The value was the regularity of their meeting over weeks, and months, and years. The value was a practiced integrity that grew over time because people made time to use this means of grace together.

So, while not ruling out the possibility that one or two persons may have experienced something truly life-changing as part of any acts of confessing they participated in this past week and have stories to tell, discern together and then send your planning team to seek out individuals who have a longer-range story to tell and either enlist them to tell it, or capture them on video or audio doing so. As you do your discernment, keep in mind that AA and related groups have had a parallel role to the early Methodist bands. People with a long history of sobriety and ongoing participation in meetings are likely to have testimonies of substantial transformation over time, as well as a deep awareness of the value of the meetings and sponsors in sustaining it.

And whatever your team can do, seek to ensure that confession groups or one on one meetings started last week or recently are sustained for the weeks and years going forward.

Epistle: Networked Unity
Week 4: Many Gifts to Make One, United Body
Ephesians 4 invites us to consider two possible states for its first hearers and for us. Much of Ephesians seems to presume a general state of "things going well" among the churches centered around Ephesus and simply to offer a kind of "theological summary" to encourage more of the same to continue. But the intensity of the language of unity this week may point in another direction as well. Across many cultures and times, repeated motifs in rhetoric are often an indication that what is repeated is not happening as it should, and attention needs to be paid toward repentance or redirection.
"One body, one Spirit, one hope of calling, one Lord, one faith, one baptism, one God and Father of all"—that's seven "ones" in a very short space. Combine that with Paul's calling upon the people "to walk worthy of the calling by which they had been called, being zealous to keep the unity of the spirit in the bond-chains of peace," and what is conveyed is a sense of urgency about the teaching and the practices he is about to offer here. It is certainly possible the communities that made up the "Ephesian circuit" did have it all together, or mostly so, and Paul was simply urging them to keep it up. But the strength of this rhetoric at least suggests Paul may have been concerned that some of them may not.

Paul offers two watchwords here for those seeking to embody the oneness that God establishes in the church: "walk worthy" of your calling in Christ Jesus, and "keep the unity of the Spirit in the bond-chains of peace."

Very often, groups seeking to build community or improve partnerships aim and settle for everyone getting along and no one's feelings getting hurt. That, however, turns out to be a great recipe for miscommunication and dysfunction, not healthy community! Paul sets a much higher bar. Our unity isn't forged in our feelings. It is forged by the Holy Spirit and bound together by the peace of Christ. Peace (Shalom) in the Bible doesn't mean simply a lack of conflict. Instead, it always points to the abiding presence of health and wholeness even in differences and conflict.

Paul goes on to enumerate the many ways we are empowered to keep the unity of the Spirit within and across our congregations. In verses 4-6, he lists multiple ways God has laid the foundations for our unity, as we share in Christ one Lord, one faith, one baptism, one God and Father of all whose Spirit moves through all.
The work of the Spirit moving among us continues to empower our unity and peace through the diversity of people and gifts the Spirit gives us—apostles, prophets, evangelists, shepherds, and teachers. While other "gift-lists" are more expansive (see Romans 12 and I Corinthians 12), these five seem to include the key roles necessary for the growth and multiplication of Christian communities, almost wherever they are.

And note that Paul does not say all five gifts are present in the pastor, or in any one person. Quite the opposite! The people are the gifts! Some are apostles. Some are prophets. Some are evangelists. Some are shepherds. Some are teachers. Persons exercising these gifts in the community equip the followers of Jesus for their hands-on ministries and build up the body of Christ. Building up the body does necessarily mean making the congregation or the network larger. It means helping the congregation or the network of whatever size to function with the unity and integrity of one body.
Further, these five kinds of gifted people and their differing roles offer these two key functions (equipping the saints and building the body) toward particular goals—unity in faith (which does not mean merely uniformity in beliefs), unity in knowing Jesus (which includes following his direction), and, ultimately, maturity "into the full stature of Christ" (as we Wesleyan Christians would say, "Christian perfection.") In short, the goal of all of these roles is to make us all, with our varying gifts and roles, as competent in fulfilling and witnessing to God's reign in our lives as Jesus was in his.
Finally, this goal was intended to be achieved by all persons in these communities, not just a select few (verse 13). That's why Paul is adamant in the verses that follow that not achieving this goal it is not an option. "That's why we must no longer be infants, tossed about and carried along by every passing fad of teaching, the trickery of people and their skill in methods of deception; instead, we are [all] to grow up by all means into Christ, the head." Perpetual growth (growing in holiness toward perfection in love in this life) is to be the normal mode of Christian life, not the exception. Full maturity (perfection) in Christ in this life is its expected and achievable end.

In Your Planning Team

Questions for Discussion to Identify Assets for Unity Fueled by Many Gifts

1. To what degree do you have it all together where you are? Just how well are partnerships working within your congregation and across the networked relationships you are forming with others?

2. Where are people in your congregation "walking worthy of their calling" in their daily lives? In our heritage, this points to how we help one another live and grow in holiness of heart and life until we are made perfect in love toward God and neighbor. How are the partnerships you are forging with others helping you, across all your congregations, become entirely holy?
3. How does your congregation, and how does your partnership with others, actually help you "keep the unity of the Spirit in the bond-chains of peace"?
4. What are the signs of healthy community— where truth is spoken in love-- within each of your congregations and across your network?

5. How does your congregation and network of congregations work actively to help all persons in it achieve full maturity in Christ in this life? What does "full maturity in Christ" look like where you are? Who might you say has more or less achieved that? How did those persons "get there"?
One of the values of a cyclical letter, like Ephesians, is the reminder that from the earliest days, no single congregation was considered an island, nor the be-all and end-all of Christian community. Some groups may have gifts others lack, and all benefit in the sharing.

Early Methodism actively sought to help all of its adherents achieve "perfection in love in this life." These early Methodists also realized the bulk of the kind of work they'd need to do with one another to grow in holiness would not be done by the Anglican or other congregations they attended, but alongside them. Early Methodists remained connected to the ongoing worship life of the congregations for Sunday and Feast Day worship and for the celebration of the sacraments. But they relied on their own separate, non-congregational structures of class meetings, bands, and societies to do the work of ensuring that everyone who would remain in them would be growing "in holiness of heart and life." This left the early Methodists free to be relatively exclusive in their groups—inviting all but retaining only those who were serious about living out their faith accountably under the General Rules—while also experiencing the more "inclusive" environment of congregations which were open to all to attend regardless of their interest in such growth.
So what kind of congregation are you? Are you an open, Church of England-style congregation ready to receive and keep all who come your way? If so, inviting people into deeper forms of discipline will likely require they do so in an additional smaller environment, such as the early class meetings and societies, which will of necessity have higher standards for obtaining and retaining participants. Or are you a "high-expectation" congregation where all professing members are in accountable relationships and groups that keep them growing in Christ and are willing and able to "speak the truth in love" to one another when they go astray, possibly even rescinding professing membership for a time if there is not a willingness to repent? The kind of congregation you actually are—not just wish you might be—should shape the approach you take in planning worship around this text today and in continuing to build partnerships in ministry and mission across your local network.
Gospel: The Holy Meal
Week 2—Not Some Magical Meal
As 2 Samuel offered the "aftermath" to the reading last week, John's Gospel offers the first of several installments of the "aftermath" of the feeding of the 5000 we read last week. We already got a hint of some of the aftermath from last week, as Jesus hid himself in the mountains to avoid the crowd declaring him their king, and then met the disciples on the Sea of Galilee as they were rowing to reach their next destination.
It's there we see the next level of "aftermath" unfold. Some from the crowd the day before had gotten into boats themselves that night, presuming his next stop might be Capernaum. Jesus is none too welcoming to these seekers. He begins by insulting the reason they came: "You're seeking me not because you saw signs, but because you ate from the bread and got full" (vs 26). Why is seeing signs important? In John's Gospel, it's everything. It's about whether you "get it" about who Jesus is and what's happening in the world now that he has come. Jesus is saying, "You're not here because you get it." Or even, "The fact you're here proves you don't get it."
He continues in words the audience in the story still wouldn't get, but that early Christians would. "Don't spend your time working for perishable food but for food abiding into eternal life which the son of man will give you."

But early Christians formed in the faith knew what Jesus was talking about: the Christian life and the Eucharist. Jesus was saying, "Live in such a way that you are ready to participate at the Eucharist with integrity."

What, you may say? How would they get that message? Wasn't the Lord's Table always open to all? Didn't the fact that he fed everyone who stayed prove it?
A bit of an early Christian history lesson may be helpful here. The Eucharist in early Christianity was not made available to all, not even necessarily to all the baptized from week to week, though it was celebrated at least weekly. What we know of early Christian Eucharistic practices is that one had to be living demonstrably in the way of Jesus as discerned by the gathered community even to be present in the room when worship happened, much less to receive the blessed bread and wine. If Didache, from roughly the same time and place as John's Gospel, is any indicator, the "ban" was a very active practice in Syrian Christianity (home to John's Gospel, and possibly Matthew's as well). The ban was not intended to cut people off as much as to ensure that all present when Communion was celebrated were fully prepared to offer themselves, individually and collectively, as a pure sacrifice to God at worship.
So when the Christians in John's community heard "spend your time working for food abiding into eternal life," what they heard was "be sure to live in such a way that you both reflect and are worthy of the food you receive and share in worship."
Clearly, the biblical context is not ours. We today place far fewer conditions on people receiving from the Lord's Table. We require only a willingness to follow Jesus, to repent of our sins, and to seek peace with others. We make no restrictions at all about who can be present when we worship. So we lack many of the "objective correlatives" of community practice in our context that made sense of these words to their first hearers.
What we needn't lack, however, is the teaching and support that calls disciples of Jesus to remember and live out what we pray at the Lord's Table. "From the Table into the World" explores the specific connections between what we pray at the Lord's Table and how we "live what we pray" in our daily lives. You may find it a helpful resource to include in your bulletin or as the basis of a study group today or either leading up to or following from worship today.
The dialog between Jesus and his "inferior" seekers continues as they ask another question that may seem out of the blue. "What do we need to do so we can perform the works of God?" The question shows they're still not "getting it." Now they want to be able to pull off the "tricks" Jesus performed. They want the secret to his "magic."
It wasn't magic. It was a sign. They still don't understand that. Jesus knows it. But he offers them a way to understand if they will take him up on it. "This is the work of God: that you believe into the one God has sent." "Believe into" means "commit your life to." It means follow. If you become my follower, my disciples, Jesus says, then you will understand. Then you'll see the signs, and you'll do them, too. Not instantly—but by following me, over time, you will.
In verse 30, the people made clear they hadn't seen the sign value of what Jesus had done the day before. That's why they were asking for a sign now. And what they ask for seems to miss the very point of what they had experienced the day before. "Our ancestors ate manna in the wilderness." Hadn't they just come to Jesus because they had miraculously eaten bread in the desert themselves?
Jesus' response is patient but to the point. The manna wasn't the true bread from heaven. The bread the day before wasn't either (obviously: It was from a boy's lunch!). It was a sign of the true bread. That bread comes from God and gives life (zoe, not bios-- "aliveness," not mere biological function) to the world.
Now their hunger manifests. "Give us this bread always!"
Jesus answers, "I am the bread of life. The one who comes to me shall not be hungry again, and the one who believes into me shall no longer thirst" (vs. 35).

The multiplication of the loaves was no magic act. It was a sign pointing to something else—pointing to Jesus as the true bread who would continue to feed us all.

Likewise, what we do when we gather at the Lord's Table is no magic. We do not consecrate the bread and cup, and neither does the pastor. That would be an act of magic by a magical person saying magical words to turn regular food and drink into magical food and drink.

Jesus was no magician.

Neither are we. Neither are our pastors.

We are the disciples of Jesus who gather at his Table, reconciled with God and each one another so we are able to offer ourselves there in praise and thanksgiving led by our authorized presider. Together, we pray with our pastor for the Holy Spirit to be poured out upon us and what we offer that when we receive it again it may be for us the body and blood of Christ.

Not magic. Not mere symbol or even sign now. The feeding of the 5000 was the sign. The Eucharist is the means of grace by which we receive what it signified, the very bread of heaven, the bread of life, nourishing us and all who have believed into Jesus and seek to live his way.
In Your Planning Team
Think together and discuss in your worship planning team what people are looking for where you are. Are they looking for a quick fix, like the bread of the previous day? Are they looking for a silver bullet, like the "secret to the magic" these folks requested? Or are they looking for what Jesus actually offers—the more rigorous way of daily and lifelong discipleship to him?
Next ask yourselves this, quite honestly. What do you actually most regularly offer people through worship where you are? Are you offering a "quick fix," the fulfillment of some immediately felt need or desire? Are you offering or claiming to offer a "silver bullet," 10 ways to a happier or more fulfilled life, "secrets" to success?
Or are you offering your own witness and the witness of others to a life of discipleship to Jesus Christ, and extending the offer to others actually to "believe into" him, to follow him with their whole lives—and not backing down on the fact that that, and only that, is what you offer?
Look through your worship plans and bulletins. Recall your conversations about planning. Think about what you say and what you sing in worship. And resolve that today, in planning worship around this text, you will follow this dictum: Offer them Christ, the true bread of life.
The United Methodist Book of Worship (BOW), Ecumenical Prayer Cycle and Additional Resources
ENTRANCE
Call to Worship: UMH 93, refrain only, "Let All the World in Every Corner Sing" (2 Samuel )
Greeting: BOW 454 (2 Samuel, Psalm)
Greeting: The grace of the Lord Jesus Christ be with you.
And also with you.
What do you seek?
We seek bread that satisfies the hunger of our souls,
bread that brings life to the whole world.
Come, let us gather around Christ in Word and Table.

Opening Prayer: BOW 461 (2 Samuel, Psalm; "We believe, O Lord," 7/8 down)

Prayer for Illumination:
Lord, open our hearts and minds by the power of your Holy Spirit, that by the stories and pictures we see through the Scriptures, we may eat the Bread of Life and trust in him now and forever.

WORD AND RESPONSE
Call to Prayer: UMH 641, "Fill My Cup, Lord" (John)
Prayer: UMH 353, Ash Wednesday (2 Samuel, Psalm)
Prayer: UMH 366, For Guidance (2 Samuel, Psalm)
Prayer: UMH 456, For Courage to Do Justice (2 Samuel)
Prayer: UMH 535, A Refuge Amid Distraction (2 Samuel)
Prayer: UMH 713, All Saints (Ephesians)
Prayer: BOW 399, Week 2 (John)
Prayer: BOW 431 by Barbara Dunlap-Berg (John, Communion)
Prayers: BOW 505 and BOW 506, For the Church (Ephesians)
Responsive Prayer: BOW 514, For the Mind of Christ (Ephesians, John)
Response: BOW 189 or BOW 191, "May This Mind Be in Us" (Ephesians, John)

THANKSGIVING AND COMMUNION
Prayer of Confession: BOW 486 (Psalm, Ephesians; 2nd item)
Great Thanksgiving: BOW 70-71, 78-79 or Holy Wisdom: A Great Thanksgiving (John, Ephesians); BOW 44-50 (II Samuel) or the version for today from Lift Up Your Hearts (Year B)
Ecumenical Prayer Cycle: Canada, USA
Prayer of Thanksgiving BOW 554 (Ephesians, John)

SENDING FORTH
Blessing: BOW 564 (John)