Review of "Unbreakable: Forging a Marriage of Contentment and Delight"
reviewed by Jane P. Ives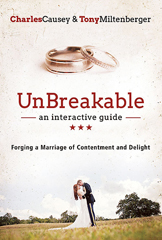 Unbreakable: Forging a Marriage of Contentment and Delight
by Charles Causey and Tony Miltenberger
(Nashville: Abingdon Press, 2014)
Charles Causey and Tony Miltenberger have created a clear interactive guide for couples or groups of couples who want to strengthen and deepen their marriage relationship. Based on five core components of love (commitment, kindness, honesty, forgiveness, and sacrifice), each linked to Scripture in a diagram on page 83, the material is grouped into seven sessions. The first session, focused on the importance and purpose of marriage, is followed by five sessions addressing each of the core components listed above and a final session focused on sexual intimacy.
Each session begins with a Scripture passage, followed by a "Main Point" statement and a "Background Story" that illustrates the struggles couples experience related to the "Main Point." Part II of each session, titled "Going Deeper," also begins with Scripture and a discussion of "The Principle," followed by "Arrows on Target" (applications of the concept to the marriage relationship), "True Confessions" (anecdotal sharing by the authors or their spouses), and a prayer. Part III of each session provides questions for individual journaling, followed by Part IV (a "Couple Interactive Exercise"), Part V ("Couple Questions for Date Night"), Part VI ("Small -Group Study and Discussion Questions"), and part VII, a behavior challenge applying the principle focus of the session.
The activities in these sessions help each person in the relationship focus on and take responsibility for his or her own attitudes and behavior, while at the same time offering an opportunity for the couple to share insights and reflections with each other. In the first session, the "Couple Interactive Exercise" directly teaches "The Responsibility Skill." The fourth session provides instruction and a framework for communicating more effectively, and the fifth session offers a clear outline of steps for practicing forgiveness. If a couple intends to write in the book, each person will both need his/her own copy. Or the couples could share one copy, each recording responses in a separate journal or on sheets of paper.
Couples who read the information and follow the recommendations in this book will likely enrich and strengthen their relationships. Groups of couples meeting weekly, or even less often, to hold one another accountable for their use of this resource and to share their learnings and progress, will likely build a strong ongoing support group that could continue to meet for fellowship and sharing.
A church would do well to include this resource in its recommendations to couples and in its marriage ministry. See also "Marriage Education and Enrichment" articles under "Best Practices and Recommended Resources" at the United Methodist Marriage and Family ministry website (www.marriagelovepower.net) and at www.umcdiscipleship.org/leadership-resources/marriage-family-ministries
Jane P. Ives, United Methodist Marriage and Family Ministries Consultant
10 Quaker Lane, Portland, ME 04103, 207-797-8930, [email protected]
Related
---