Offertory Prayers and Invitation for January 2015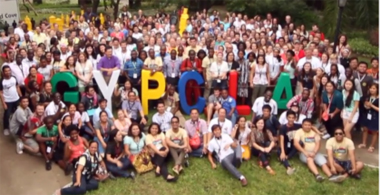 Each month's Offertory Prayers includes an "Invitation to the Offering" (see below) along with a digital image for those who might want to use it. We hope you will find this a helpful way to remind the people in your pews that their offering travels to many places to make a powerful difference in the lives of people they may never meet. You can find great stories of the difference our giving makes at http://umcgiving.org.
Invitation to the Offering
The offering you made last week empowered ministry within our congregation and in response to the needs of our community. It also helped support the work of ministries beyond the local church that reach people who are in desperate need to feel the touch of love and reconciliation. Through our connectional giving, we support ministry with Youth and Young Adults, and events such as the Global Young Peoples Gathering & Legislative Assembly, held last summer in Tagaytay, Philippines. Through your generosity, we helped bring together more than, 350 participants representing more than 35 countries. They met to share in fellowship, grow in their faith, and invest themselves in the future of the church and the mission of Jesus Christ! This ministry happens thanks to the generous support of United Methodists like you. I invite you once again to give generously as we worship God through the sharing of our gifts, tithes ,and offerings.
Learn more about Young People's Ministries at: http://globalyoungpeople.org.
January 4, 2015 -- Epiphany Sunday/Second Sunday after Christmas Day
God, our heavenly Father, you have blessed us with earthly delights. Let our life as a church community become like a watered garden. Make us radiant over the goodness of your gifts! May all who enter our midst flourish with new life. Help us to share with our neighbors generously from your bounty. We ask this through your Son Jesus Christ. Amen. (Jeremiah 31)
January 11, 2015 -- First Sunday after the Epiphany (Baptism of the Lord)
O Lord, you are full of majesty! Your Son Jesus set aside his majesty and was baptized in solidarity with us. Thank you for the gift of baptism. Send your Holy Spirit anew to guide us. By your power, make us people who proclaim the joy of your good news. Let us become bearers of goodness and generosity to all. We pray in Jesus' name. Amen. (Acts 19)
January 18, 2015 -- Second Sunday after the Epiphany
Holy God, how precious are your thoughts! In wisdom, you teach us your way and call us to follow you. Help us to trust you in all things. Then we will be at peace, knowing that you do what is best. May these gifts advance your peace in our community and to the ends of the earth. Amen. (1 Samuel 3 and Psalm 139)
January 25, 2015 -- Third Sunday after the Epiphany
Gracious God, we praise you, for you are the source of our hope! When our hope falters, your Spirit lifts us up to new heights. Help us to set our hearts on you, and to trust in you, no matter what our circumstances. May these offerings bring your uplifting hope to people both near and far. We ask this through Christ our Lord—our great giver of hope. Amen. (Psalm 62)
---
January Offertory Prayers were written by the Rev. Rosanna Anderson, Associate Director of Stewardship Ministries at Discipleship Ministries, The United Methodist Church.
Related
---