History of Hymns: "Day of Arising"
"Day of Arising"
by Susan Palo Cherwien;
Worship and Song, No. 3086
Day of arising,
Christ on the roadway,
unknown companion
walks with his own.
When they invite him,
as fades the first day,
and bread is broken,
Christ is made known.*
*Day of Arising text by Susan Palo Cherwien. Copyright © 1996 Susan Palo Cherwien, admin. Augsburg Fortress. Reproduced by permission. All rights reserved.
If asked to think of a meal where Christ breaks bread with his disciples, many of our minds naturally go to the Last Supper. It is, after all, the meal in which Holy Communion was instituted and is the meal that is referenced by the Apostle Paul in the words of institution that we hear each time we celebrate communion: "I received from the Lord what I also hand on to you, that the Lord Jesus, on the night when he was betrayed…" While this is good and right, it is easy for our communion services to become so focused on the death of Christ that we miss out on what they express about the risen life of Christ. In Susan Palo Cherwien's "Day of Arising," she focuses on another meal — the supper at Emmaus — to emphasize Christ's risen presence in our midst whenever the church gathers to break bread.
Susan Palo Cherwien [b. 1953] was born in Ashtabula, Ohio and raised in a Finnish Missouri-Synod Lutheran church in the community. There she was exposed to the musical traditions of the church, "singing hymns and liturgies in church and solid hymns in Sunday School and children's choir." While she began writing poetry in the third grade, her formal studies focused not on words but music. She studied church music and voice at Wittenberg University (Springfield, OH) followed by five years in Berlin studying voice at the Hochschule der Künste. After meeting and marrying her spouse David in Germany, they moved to Seattle where she first began to experiment with hymnwriting. As she explained, "It seemed a wonderful weaving-together of my background in voice, poetry, theology, and spirituality." Her hymnic output increased after her family moved to Chicago where she attended Mundelein College to study spirituality, ritual, and the arts (Master's of Liberal Studies). She and her family now reside in St. Louis Park, Minnesota. While she is "not a prolific writer" (she writes between 3-4 hymn texts a year), Cherwien will soon be compiling her third collection of texts for publication.
"Day of Arising" began as a commission for the 1996 Synod Assembly by the Minneapolis Area Synod of the Evangelical Lutheran Church in America. The theme text for the Synod was the Road to Emmaus story (Luke 24:13-35), which serves as the backbone of Cherwien's text. The text first was written for the tune bunnesan ("Morning Has Broken"), which set both the shorter five-syllable lines (5.5.5.4.D) as well as the fourth- and eighth-line rhyming pattern.
In the first stanza, Cherwien gives a general gloss of the Emmaus story, moving from the initial meeting of the companions with the risen Christ in the first four lines to Christ's revelation of himself in the breaking of bread. The second stanza shifts perspective and, like the ancient practice of lectio divina, asks us to find ourselves in the story of these two companions. We, too, have found ourselves walking through the world "doubtful and dreading, / blinded by sadness" at the pain and heartache that besets all those whose deepest hopes seem to have died along the journey. Yet, like these two friends, we are assured that in the midst of our grief "Christ walks with us," even when we are initially unaware of his presence. And, like these two companions, the third stanza promises that still "Christ is with us" whenever the "church gathers" and "the bread is broken" at table. The final stanza shifts perspective once again to address the risen Christ, asking that he "set all hearts burning / that all creation / with you may rise." Thus, each stanza expands the implications of the resurrection into an ever-widening circle: the companions on the road, each of us, the Church, and all creation.
As noted earlier, the text was originally set to BUNESSAN ("Morning Has Broken"), and this is the tune the text is paired with in Worship and Song. However, a few years after the song was first sung, William and Nancy Raabe commissioned composer Carl Schalk to write a new tune for the text. Perhaps best known for his fine collaborations with Jaroslav Vajda (e.g., "Now the Silence" and "God of the Sparrow"), Schalk's ensuing tune RAABE deftly underscores the resurrection theme of the text with its ascending melody line. As Cherwien notes, Schalk's "unusually fine sense of melody" creates another strong melodic possibility for her text.
Whichever tune hymnal committees and congregations choose for "Day of Arising," Cherwien's text helps expand our understanding of communion to not only encompass Christ's suffering and death, but also his resurrection. It is especially suited for the Third Sunday in Easter in Year A (and Year B, to a lesser extent), when the Gospel lesson is the road to Emmaus story. Further, it proclaims the Easter promise that in the breaking of bread Christ's risen presence is made known to us as we—like the disciples—hear, taste, and see Christ's most assuring pledge: "Lo, I am with you always." Alleluia!
Note: Special thanks for Susan Palo Cherwien for graciously providing me with biographical information about herself and the text via email. All quotes of Cherwien are taken from this correspondence.

About this month's guest writer:
David Bjorlin, a minister of the Evangelical Covenant Church, is a doctoral student in Liturgical Studies at the Boston University School of Theology. He teaches worship courses at North Park Theological Seminary and is a pastor at Resurrection Covenant Church in Chicago. He recently co-authored Incorporating Children in Worship: Mark of the Kingdom with Michelle Clifton-Soderstrom.
This article is provided as a collaboration between Discipleship Ministries and The Hymn Society in the U.S. and Canada. For more information about The Hymn Society, visit thehymnsociety.org.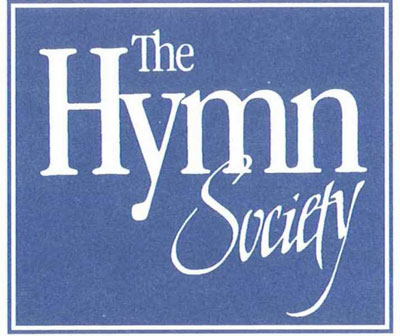 Related
---