History of Hymns: "Canto de Esperanza (Song of Hope)"
"Canto de Esperanza (Song of Hope)"
by Alvin Schutmaat
The Faith We Sing, No. 2186
¡Dios de la esperanza, danos gozo y paz! May the God of hope go with us every day,
Al mundo en crisis, habla tu verdad. Filling all our lives with love and joy and peace.
Dios de la justicia, mándanos tu luz, May the God of justice speed us on our way,
Luz y esperanza en la oscuridad. Bringing light and hope to every land and race.
Estribillo: Refrain:
Oremos por la paz, Praying, let us work for peace,
Cantemos de tu amor. Singing, share our joy with all,
Luchemos por la paz, Working for a world that's new,
Fieles a Ti, Señor. Faithful when we hear Christ's call.

Written in 1984 by Alvin L. Schutmaat, a PC(USA) missionary to Latin America, this joyful hymn set to a traditional Argentine folk melody, inspires us to be hopeful and work for peace and justice in the world. Bringing in images of light and darkness, the hymn references John 8:12, "Again Jesus spoke to them, saying, 'I am the light of the world. Whoever follows me will never walk in darkness but will have the light of life.'" This is a reminder of Jesus' promise to us to never leave us in the dark, but instead, offer us eternal life. The hymn also alludes to Romans 15:13, which states, "May the God of hope fill you with all joy and peace in believing, so that you may abound in hope by the power of the Holy Spirit." This gives us the opening phrase and sets up the idea of hope—a hope that supports and encourages Christians to strive for justice. This theme is also supported in Isaiah 51:4, "Listen to me, my people, and give heed to me, my nation; for a teaching will go out from me, and my justice for a light to the peoples."
The charming refrain is a prayer but, even more so, is an admonishment to hopeful people—pray, sing, work, and have faith in God! Some churches use the refrain independently as a response to a litany or as a benediction. It can also be used as a congregational response to the commissioning of mission teams and others going out into the world to work for God's kingdom.
The folk melody is scale-wise and easily accessible for all ages. The first two phrases of the stanza are melodically identical and can be sung antiphonally—leader/people, choir/congregation, or even left side/right side. The refrain also consists of two identical phrases and can be sung in a variety of ways with various percussion instruments. Because of the brevity of this hymn, singing it twice or more, in one language or both English and Spanish, allows the congregation to become familiar and secure in the hymn more quickly.
The author and translator, Alvin L. Schutmaat (1921-1986), was born in Michigan and was appointed by the Board of Foreign Missions of the Presbyterian Church (U.S.A.) as a missionary to South America. There he taught theology and music in Colombia, Venezuela, and Mexico and worked as an educator, theologian and, on occasion, a hymn writer. This increasingly popular hymn is now found in over 11 hymnals in the USA. In addition to his texts, Schutmaat also arranged musical settings of Latin American hymns. His arrangements, such as "Mantos y Palmas" ("Filled With Excitement," The United Methodist Hymnal, No. 279) and "Cuando el Pobre" ("When the Poor Ones," The United Methodist Hymnal, No. 434) can be found in many USA hymnals.
"May the God of hope go with us every day!"

---

References:
Anne Burnette Hook, Editor. The Faith We Sing Worship Planner (Nashville: Abingdon, 2000)
Diana Sanchez-Bu​shong. "Latin American hymnody, USA." The Canterbury Dictionary of Hymnology. Canterbury Press, accessed August 1, 2016, http://www.hymnology.co.uk/l/latin-american-hymnody,-usa.
About this month's guest writer: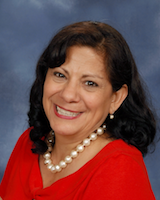 Diana Sanchez-Bushong is the Director of Music and Worship at Westlake UMC, Austin, Texas. She served as the Director of Church Music Resources for the General Board of Discipleship from 1986-1993. She was a staff consultant to the Hymnal Revision Committee that produced The United Methodist Hymnal 1989 and also Mil Voces Para Celebrar, 1996. She continues to write, lecture, and teach in the area of worship and music.
This article is provided as a collaboration between Discipleship Ministries and The Fellowship of United Methodists in Music and Worship Arts. For more information about The Fellowship, visit UMFellowship.org/Hymns.

Contact Us for Help
View staff by program area to ask for additional assistance.
Related
---