One Matters Award to Encourage Baptisms and Professions of Faith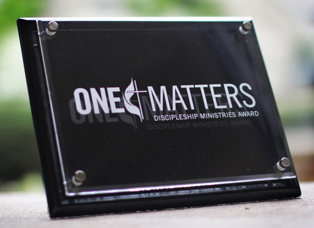 NASHVILLE, Tenn. April 17, 2015 /Discipleship Ministries/ Annual conferences are being encouraged to renew their focus on discipleship, especially at congregations in the United Methodist connection where annual baptisms and professions of faith too often are nonexistent, by honoring churches with the new One Matters Discipleship Award.
Discipleship Ministries of The United Methodist Church is urging each conference to use the award to recognize one church that is turning zeros into positive numbers with a renewed focus on discipleship during 2015.
"With the One Matters Discipleship Award, we want to lift up the importance of discipleship and help interpret across the connection what zeros in professions of faith and baptism mean and what moving away from the zeros means," said Jeff Campbell, Director of Annual Conference Relationships at Discipleship Ministries. "Each "1" in those categories represents a transformed life – a life that matters to God, and a life that should matter to us."
More than 70 percent of the UMC congregations in the United States did not baptize anyone age 13 or older in 2013, and 55 percent did not baptize anyone age 12 and under, according to the General Council on Finance and Administration (GCFA). In addition, 50 percent of local churches did not have any professions of faith that year.
"Making disciples is much more than statistics; it is about lives changed by God's grace," Thomas said. "We have an opportunity to help celebrate the fact that one life matters ... and continue to help congregations identify ways to invite people into a relationship with Jesus through the United Methodist Church."
Jeff Campbell, Director of Annual Relationships at Discipleship Ministries, said conferences are invited to participate in the One Matters Discipleship Award.
"Each conference can nominate a church and share that church's story of how they are turning things around, making disciples of Jesus for the transformation of the world, Campbell said.
The award, which includes $1,000 and a One Matters Discipleship Award plaque, will be presented to the pastor and lay leaders of a congregation which has done significant work to make its zeros from previous years become positive numbers, Campbell said.
"The monetary award is designed to encourage continued growth in the area of discipleship," he said.
In the Rio Texas Annual Conference, leaders have decided to take the One Matters award to the next level.
Ruben Saenz, Director of Connectional Ministry, said Rio Texas plans to add $6,000 to the $1,000 offered by Discipleship Ministries, purchase six more One Matters plaques and present an award to each district to lift up the importance of making disciples across the conference.
Conference office leaders interested in participating in One Matters should contact Campbell by email at [email protected], or by phone at (615) 340-7260.
Watch the video here.
Learn more about the One Matters Discipleship Award.